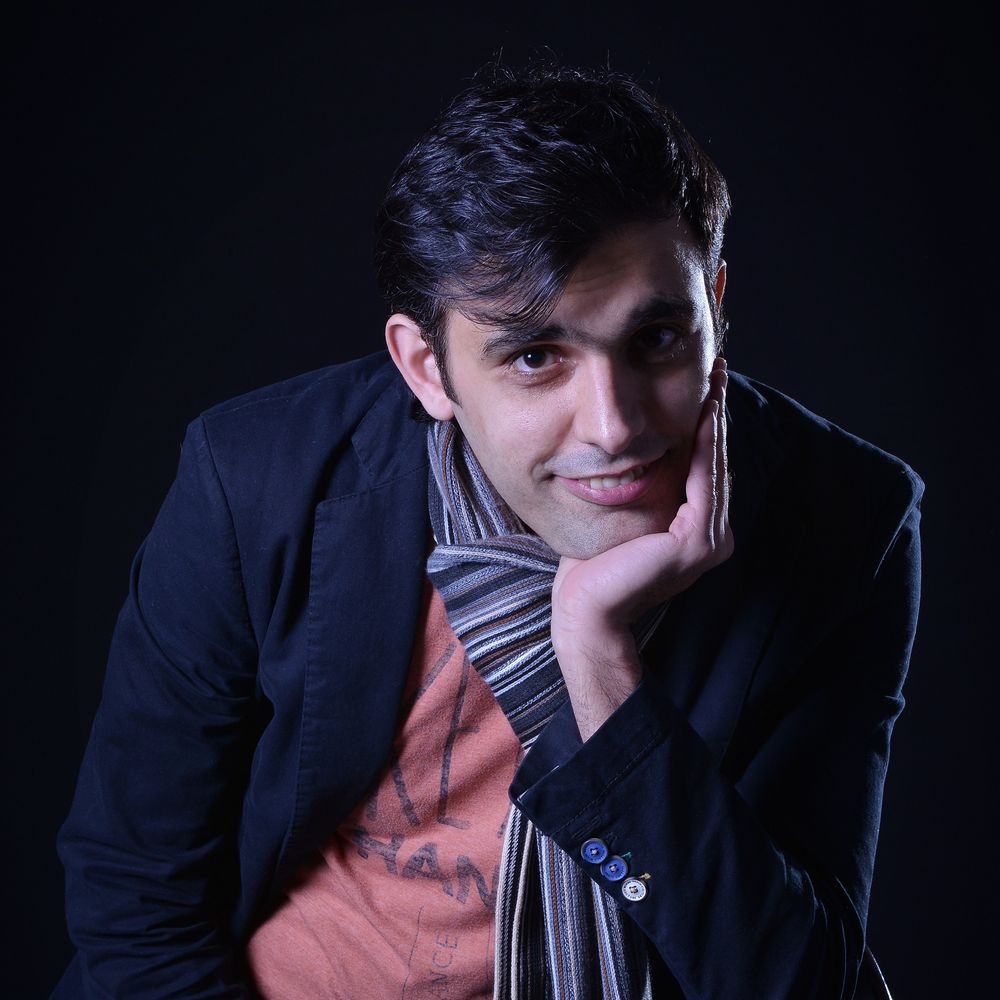 Vahram Sarkissian (Sargsyan) is an Armenian Canadian composer, conductor, and singer currently residing in Montreal, Canada. His writing style represents a musical palette ranging from influences by V century Armenian medieval chant to previously unreported endogenous vocal extended techniques. Sarkissian's music has been performed in dozens of countries including the UK, Germany, Sweden, Austria, Italy, Switzerland, Japan, Canada and the USA.
As an experimental vocalist, Sarkissian developed a distinct vocal identity with a range of 7 octaves and several signature sound production methods. He was a founding member of Phth - a Montreal-based experimental vocal ensemble focusing on new and challenging repertoire, improvisation, and multidisciplinary performances.
His arrangement of an Armenian ancient chant Great Mystery has been included in the Oxford University Press anthology World Carols for Choirs and has been recorded by the BBC Singers. Sarkissian's instrumental work Hunting the Hunter was premiered under his own baton at Carnegie Hall in 2012. His composition Joyful Light for women's choir has been performed more than a hundred times around the world.
Vahram Sarkissian is also active as a lecturer. His workshops and presentations on extended vocal techniques are frequently featured at the most prestigious choral festivals and symposia around the world. Some of his recent lecturing events were at the World Symposium on Choral Music (Barcelona, Spain), ACDA Regional Conference (Pittsburgh, USA), International Festival of Choral Music Europa Cantat (Tallinn, Estonia), World Voice day at Royal College of Music (Stockholm, Sweden), Podium Choral Conference and Festival (Toronto, Canada), among others.
Vahram Sarkissian holds undergraduate, graduate and post graduate degrees in composition and choral conducting. He is a member of Composers' Union of Armenia. He has served as a music consultant for European Choral Association (2010-2012).
NOTABLE PERFORMERS 
BBC Singers (UK) 
Meitar Ensemble (Israel) 
Ensemble Transmission (Canada) 
Geghard Vocal Ensemble (Armenia)
The Esoterics Choir (USA) 
Phth Vocal Ensemble (Canada) 
Ensemble Oktoplus (Germany) 
University of Hawaii Choir (USA)
McGill Contemporary Music Ensemble (Canada) 
Elmer Iseler Singers (Canada) 
Little Singers of Armenia (Armenia) 
Junges Ensemble Dresden (Germany) 
Armenian State Chamber Choir 
Alan Hovhaness String Orchestra (Armenia) 
EST Vocal Ensemble (Japan) 
Yerevan State Chamber Choir (Armenia)
SELECT COMMISSIONS 
Norddeutscher Rundfunk (Germany)
CBC Radio (Canada)
Lark Musical Society (USA) 
AGBU Foundation (USA) 
Oxford University Press (UK) 
The Esoterics (USA) 
Assonance Ensemble (Armenia) 
Boston Choral Ensemble (USA) 
Crossroads International Music Festival (Armenia)
AWARDS / FELLOWSHIPS / GRANTS
Best choral composition of the year (2019, Yerevan, Armenia) 
The winner award in the POLYPHONOS 2017 Commission Competition (Seattle, USA, for The Door of Mher) 
Third prize in the Godfrey Ridout Awards from the Socan Foundation (Canada 2012, for Tribulationes) 
The winner award in the 3rd BCE Commission Competition (Boston, USA 2010, for Tribulationes) 
1st prize in the International Contest for New Choral Compositions (Petrinja, Croatia 2009, for Anegh Bnutiun) 
Award from the World Armenian Congress "for creative achievements" (2009, for Mythis) 
Co-winner award at the European Competition for Young Composers (Aosta, Italy 2008, for Laudate Dominum) 
Graduate Excellence Fellowship, McGill University (Canada, 2013) 
AGBU Performing Arts Fellowship (USA, 2012) 
Calouste Gulbenkian Higher Education Fellowship (Portugal, 2006)
Works
CHORAL
Psalm 50 - mixed choir (2000)
SOLO VOICE
Nani - solo male voice (2012)
CHAMBER
Quiet Songs - 2 voices and 3 instruments (2023)
Noesis - flute and piano (2018)
Bagatelle - Piano (2015)
Hunting the Hunter - 7 instruments (2012)
Music for 13 - large instrumental ensemble (2003)
Usti Gukas (Sayat Nova) - clarinet, marimba and cello (arrangement) (2012)
ORCHESTRAL
Mythis - string orchestra (2003)
Ter, Yete (Տեր, եթե) - Cantata for mixed chorus and large orchestra (2003)
IMPROVISATION